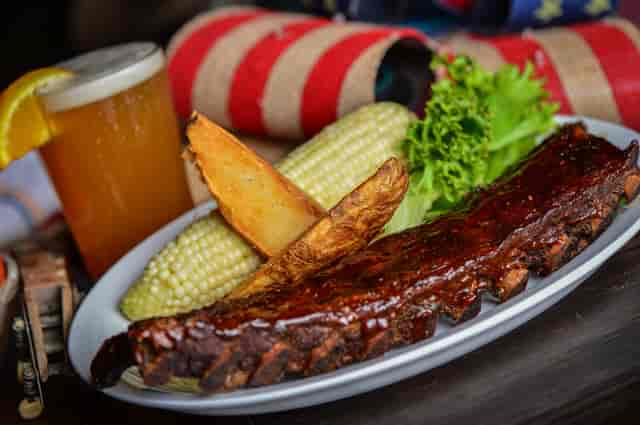 Hello friends, from Ray Herndon...
Hello friends, from Ray Herndon...
Greetings HBJ friends, fans, followers. We are in the midst of an incredible season.
This is Ray Herndon (youngest son of the late Gwen Herndon who owned and operated HBJ for over 40 years). My Mom left us all a lasting legacy in HBJ that we want to preserve the best that we can. I'm so grateful for her hard work and perseverance through the past 45 years, its a tall order to try to live up to. There aren't many places like HBJ left ANYWHERE in the country, so this as a huge honor. Along with our great staff, our family, my fiancé Joanne, and especially YOU, our incredible guests, here we go....
A lot of you have asked, and have probably wondered,....so here's the scoop..... after our Mom, Gwen's, passing in 2017, I decided to purchase Handlebar J, lock-stock and barrel from my brothers, Rick and Ron in 2018, they have been and remain supportive of my decision.
We want HBJ to stay the same, yet also grow, so we will be looking into doing more catering, corporate events, buy-outs etc. So if you would like to book your next event at HBJ, contact us right away.
We have launched this new Pop-menu site (hope you like it) in hopes to bring you a more interactive experience with us online, from our food, to our live music, and being able to get your feedback, comments and reviews, hopefully good ones!. We would LOVE to hear from you, as well as be able to alert you of anything happening at HBJ that we feel you should know. This site won't send you a million annoying emails, but we will be as strategic and respectful when we decide to send something out that we'd like for you to know. Just go to "Be an HBJ Star" to be included in this.
Today's world is so much different than ever in the restaurant industry from staff to customer. We will continue to evolve however we feel necessary to continue the long standing HBJ tradition of great food, entertainment and atmosphere. Our Ribs are our staple, and we will always have them. Other food items may vary depending on staffing, availability and sheer logistics.
We will always do our best to exceed our guest's expectations, and hope that if there is ever an issue with anything, that you, our guests, will kindly let us know so we may have the chance to correct it right then and there. Your satisfaction is our goal and mission!
We will continue having various great entertainers, along with The Herndon Brothers Band, our house band, a staple since 1986.
One more thing we want you to know; in honor of my Mom Gwen we are doing a fund raiser for Banner Alzheimer's foundation. April 26th and 27th 2019. Tickets are available at Eventbrite.com The Friday night event features entertainment by Lyle Lovett and His Large band. The second night will be "The Sundown Street Dance". featuring a line-up of incredible local talent and special guests starting at 4:30pm with a stage in the street, food, drink and all. We hope you can join us for this incredible event for a great cause!
Thank you for your continued patronage and we look forward to showing you a great time at the Ol' Handlebar J "Scottsdale's Original Rib house" when you walk through our door. - Ray Herndon